How it works
Project Air is a first-of-a-kind, large-scale, commercial size sustainable methanol plant able to utilize a flexible mix of CCU and circular/renewable feedstock.
The project consists of a gasification unit where industrial residue streams and biomethane, produced in new biogas production plants from different types of waste, is gasified into synthesis gas.
The synthesis gas is mixed with captured CO2 from the production site of Perstorp and renewable hydrogen produced in a new electrolysis unit running on purified wastewater and renewable electricity.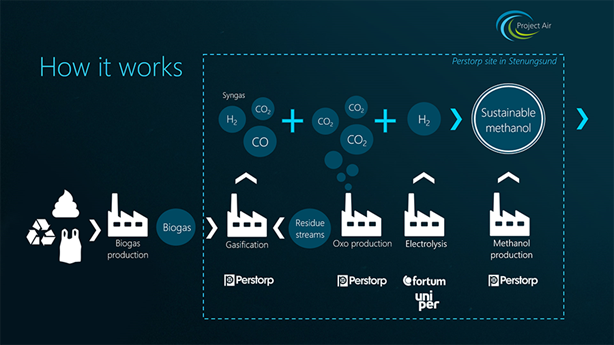 It will be one of the world´s largest hydrogen electrolysis unit installed in the chemical industry and the world first electrolysis plant using purified wastewater.
The mix of synthesis gas, CO2 and hydrogen from electrolysis will then be raw materials into a new methanol unit for production of 200 000 ton of methanol annually.
Project Air will reduce carbon emissions by:
Replacing 200 000 ton/year fossil methanol and its corresponding CO2-emissions
Reducing CO2 emissions from Perstorp site in Stenungsund via the CCU
Reducing the end-of-life emissions from the methanol produced from the biogas
Establishing new biogas production in Sweden partly planned from manure (REDII manure credits)