About Project Air
Project Air is an industrial initiative to transform the chemical industry towards climate neutrality, with far-reaching effects throughout industrial value chains. Perstorp Group and partners Fortum and Uniper will produce sustainable methanol for chemical manufacturing using circular production methods, thereby reducing carbon dioxide emissions by 500,000 tons per year, corresponding to the annual emissions of around 340,000 new cars running on fossil fuel.
The opportunity
Transforming the chemical industry
The chemical industry has depended on fossil materials for over 100 years. This changes with Perstorp and Project Air.
For Perstorp, methanol is a key raw material. Therefore, shifting from fossil-based to sustainable methanol is key to Perstorp's transformation towards climate neutrality. The aim is to put Project Air into full-scale operation and start producing sustainable methanol as soon as 2025. Combining available technologies and sustainable inputs makes this feasible.
Cutting carbon emissions
Project Air will reduce carbon dioxide emissions by 500,000 tons per year, which corresponds to cutting Sweden's carbon emissions by 1 percent. This is possible by replacing conventional methanol with sustainable methanol.
Strong impact on value chains all the way  
As much as 96 percent of everything that is produced needs chemicals. This means that when chemical products become more sustainable, so do most other industries and products. Consequently, the chemical industry is a crucial player in tackling the climate crisis. The transformation of Perstorp and the chemical sector will have far-reaching effects in many value chains.
How it works
Project Air – Perstorp Group with partners Fortum and Uniper – will produce sustainable methanol for chemical manufacturing.
Perstorp will build a Carbon Capture and Utilization (CCU) plant in Stenungsund, Sweden that will convert carbon dioxide emissions captured from Perstorp's operations as well as other residue streams, biogas and renewable hydrogen to methanol. Renewable hydrogen will be supplied by a world class hydrogen electrolysis plant which will be set-up by Fortum and Uniper.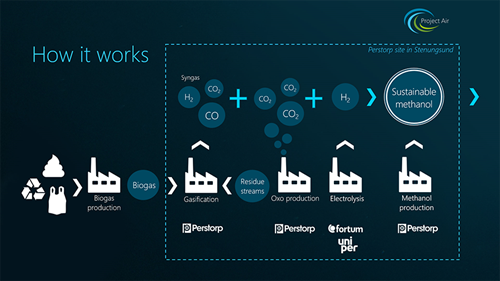 Project Air will substitute all 200,000 tonnes of fossil methanol used by Perstorp each year in Europe as raw material for chemical products.
Project Air has the potential to transform the chemical industry. It can happen now.
The building blocks
Carbon dioxide emissions: Project Air uses carbon dioxide, captured from Perstorp operations, as raw material in the production of methanol, eliminating greenhouse gases from operations.
Residue streams:  Residue streams containing carbon and hydrogen from production are recycled.
Biogas: Biomethane, produced in biogas production plants from different types of waste, are gasified into synthesis gas.
Renewable hydrogen: Fortum and Uniper use purified wastewater and renewable electricity to produce hydrogen. Their plant will be one of the world´s largest hydrogen electrolysis unit installed in the chemical industry and the world first electrolysis plant using purified wastewater.
Contributing to climate objectives
All forces are needed to boost sustainable production and its competitiveness, including in the chemical industry. Consequently, Perstorp and Project Air welcome the European Commission's Fit for 55 package of legislative proposals.
Project Air will contribute substantially to the Fit for 55/Green Deal policy objectives. It will enable ground-breaking transformational changes in the chemical sector as follows:
Significant greenhouse gas emission reductions in energy- and carbon-intensive chemical processes (expected annual CO2 reduction of approximately 500,000 tonnes, corresponding to the annual emissions of around 340,000 new cars running on fossil fuel);
Combination of proven technologies and processes, along with a system integration approach: CCU, biogas, green hydrogen (produced from renewables, through electrolysis), and utilisation of residue streams in several applications;
Resource efficiency and circularity at its core, with e.g. the utilisation of waste water in the electrolysis process used to produce green hydrogen.
With these qualities Project Air will specifically contribute to achieving the following targets and objectives:
Minimum 55% reduction in greenhouse gas emissions by 2030 (compared to 1990), on the way to climate neutrality by 2050;
Increased binding EU-level target of 40% renewables in the EU energy mix (up from the current 32% goal) under the proposed RED review, and indicative national contributions;
Sub-target of 50% renewable share in hydrogen consumption in the industry (under the proposed RED review); 
Biogas is a key issue
Biogas is needed to produce sustainable methanol. The conventional alternative, fossil natural gas, is not an option in the green chemical industry.
The industry needs more biogas
Project Air can transform the chemical industry towards climate neutrality. This is possible in the very near future – but only with a steady supply of biogas for the project in Sweden. In the short term, Perstorp demand for biogas will double, from 1.5 TWh to almost 3 TWh per year. To meet the need of Perstorp and other industrial users,  biogas production in Sweden must increase from today's approximately 2 TWh to over 10 TWh. In the longer term, even more is needed.
Functioning market for industrial use of biogas
Sweden's sustainable industry requires a functioning market for biogas. Production needs to increase, and the industry must be recognized as a significant user of biogas.
The electrification of transport opens up new outlets for biogas. This is a great opportunity for all biogas producers. When used in the industry, biogas can become part of renewable chemical products used in thousands of applications that are functional for many years, as the chemical industry needs the carbon molecules from the biogas to use as building blocks.
Level playing field needed
To function properly, the market for biogas for industrial use needs a level playing field. The current subsidy structure discriminates industrial use of biogas as a raw material.
Sweden needs predictable and competitive conditions as well as production support that is harmonized with that of other EU countries.
Project Air has the potential to transform a substantial part of Sweden's basic industry. This requires stable supply of inputs at competitive prices.